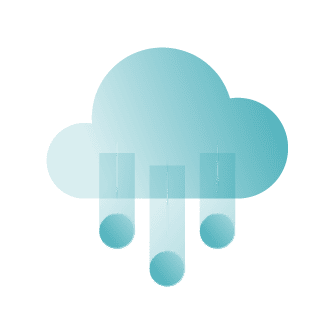 RCH Introduces Scalable Cloud Service Offering for Growing Biotechs and Pharmas
Introducing, RCH Launch Pad, bundling scalable, cost-effective Cloud computing services to meet the unique compute infrastructure challenges of start-up and growing organizations.
A Partly Cloudy Day: Which Applications and Workflows Work Best in the Public Cloud
Life Science researchers are beginning to actively embrace public Cloud technology. Research labs that manage IT operations more efficiently have more resources to spend on innovation.
As more Life Science organizations migrate IT infrastructure and application workloads to the public Cloud, it's easier for IT leaders to see what works and what doesn't. The nature of Life Science research makes some workflows more Cloud-friendly than others.
Why Implement Public Cloud Technology in the Life Science Sector?
Most enterprise sectors invest in public Cloud technology in order to gain cost benefits or accelerate time to market. These are not the primary driving forces for Life Science research organizations, however.
Life Science researchers in drug discovery and early research see public Cloud deployment as a way to consolidate resources and better utilize in-house expertise on their core deliverable—data. Additionally, the Cloud's ability to deliver on-demand scalability plays well to Life Science research workflows with unpredictable computing demands.
These factors combine to make public Cloud deployment a viable solution for modernizing Life Science research and fostering transformation. It can facilitate internal collaboration, improve process standardization, and extend researchers' IT ecosystem to more easily include third-party partners and service providers.
Which Applications and Workflows are Best-Suited to Public Cloud Deployment?
For Life Science researchers, the primary value of any technology deployment is its ability to facilitate innovation. Public Cloud technology is no different. Life Science researchers and IT leaders are going to find the greatest and most immediate value utilizing public Cloud technology in collaborative workflows and resource-intensive tasks.
1. Analytics
Complex analytical tasks are well-suited for public Cloud deployment because they typically require intensive computing resources for brief periods of time. A Life Science organization that invests in on-premises analytics computing solutions may find that its server farm is underutilized most of the time.
Public Cloud deployments are valuable for modeling and simulation, clinical trial analytics, and other predictive analytics processes that enable scientists to save time and resources by focusing their efforts on the compounds that are likely to be the most successful. They can also help researchers glean insight from translational medicine applications and biomarker pathways and ultimately, bring safer, more targeted, and more effective treatments to patients. Importantly, they do this without the risk of overpaying and underutilizing services.
2. Development and Testing
The ability to rapidly and securely build multiple development environments in parallel is a collaborative benefit that facilitates Life Science innovation. Again, this is an area where life science firms typically have the occasional need for high-performance computing resources – making on-demand scalability an important cost-benefit.
Public Cloud deployments allow IT teams to perform large system stress tests in a streamlined way. System integration testing and user acceptance testing are also well-suited to the scalable public Cloud environment.
3. Infrastructure Storage
In a hardware-oriented life science environment, keeping track of the various development ecosystems used to glean insight is a challenge. It is becoming increasingly difficult for hardware-oriented Life Science research firms to ensure the reproducibility of experimental results, simply because of infrastructural complexity.
Public Cloud deployments enable cross-collaboration and ensure experimental reproducibility by enabling researchers to save infrastructure as data. Containerized research applications can be opened, tested, and communicated between researchers without the need for extensive pre-configuration.
4. Desktop and Devices
Research firms that invest in public Cloud technology can spend less time and resources provisioning validated environments. They can provision virtual desktops to vendors and contractors in real-time, without having to go through a lengthy and complicated hardware process.
Life Science research organizations that share their IT platform with partners and contractors are able to utilize computing resources more efficiently and reduce its data storage needs. Instead of storing data in multiple places and communicating an index of that data to multiple partners, all of the data can be stored securely in the cloud and made accessible to the individuals who need it.
5. Infrastructure Computing
Biopharmaceutical manufacturing is a non-stop process that requires a high degree of reliability and security. Reproducible high-performance cloud (HPC) computing environments allow researchers to create and share computational biology data and biostatistics in a streamlined way.
Cloud-enabled infrastructure computing also helps Life Science researchers monitor supply chains more efficiently. Interacting with supply chain vendors through a Cloud-based application enables researchers to better predict the availability of research materials, and plan their work accordingly.
Hybrid Cloud and Multi-Cloud Models May Offer Greater Efficiencies 
Public Cloud technology is not the only infrastructural change happening in the Life Science industry. Certain research organizations can maximize the benefits of cloud computing through hybrid and multi-Cloud models, as well. The second part of this series will cover what those benefits are, and which Life Science research firms are best-positioned to capitalize on them.
RCH Solutions is a global provider of computational science expertise, helping Life Sciences and Healthcare firms of all sizes clear the path to discovery for nearly 30 years. If you're interesting in learning how RCH can support your goals, get in touch with us here. 
Platform DevOps – 7 Reasons You Should Consider It for Your Research Co
Many researchers already know how useful DevOps is in the Life Sciences. 
Relying on specialty or proprietary applications and technologies to power their work, biotech and pharmaceutical companies have benefited from DevOps practices that enable continuous development meant micro-service-based system architectures. This has dramatically expanded the scope and capabilities of these focused applications and platforms, enabling faster, more accurate research and development processes.
But most of these applications and technologies rely on critical infrastructure that is often difficult to deploy when needed. Manually provisioning and configuring IT infrastructure to meet every new technological demand can become a productivity bottleneck for research organizations, while the cost surges in response to increased demand.
As a result, these teams are looking toward Platform DevOps—a model for applying DevOps processes and best practices to infrastructure—to address infrastructural obstacles by enabling researchers to access IT resources in a more efficient and scalable way.
Introducing Platform DevOps: Infrastructure-as-Code
One of the most useful ways to manage IT resources towards Platform DevOps is implementing infrastructure-as-code solutions in the organization. This approach uses DevOps software engineering practices to enable continuous, scalable delivery of compute resources for researchers.
These capabilities are essential, as Life Science research increasingly relies on complex hybrid Cloud systems. IT teams need to manage larger and more granular workloads through their infrastructure and distribute resources more efficiently than ever before.
7 Benefits to Adopting Infrastructure-as-Code
The ability to create and deploy infrastructure with the same agile processes that DevOps teams use to build software has powerful implications for life science research. It enables transformative change to the way biotech and pharmaceutical companies drive value in seven specific ways:
1. Improved Change Control
Deploying an improved change management pipeline using infrastructure-as-code makes it easy to scale and change software configurations whenever needed. Instead of ripping and replacing hardware tools, all it takes to revert to a previous infrastructural configuration is the appropriate file. This vastly reduces the amount of time and effort it takes to catalog, maintain, and manage infrastructure versioning.
2. Workload Drift Detection
Over time, work environments become unique. Their idiosyncrasies make them difficult to reproduce automatically. This is called workload drift, and it can cause deployment issues, security vulnerabilities, and regulatory risks. Infrastructure-as-code solves the problem of workload drift using a mathematical principle called idempotence – the fundamental property of repeatability.
3. Better Separation of Duties
It's a mistake to think separation of duties is incompatible with the DevOps approach. In fact, DevOps helps IT teams offer greater quality, security, and auditability through separation of duties than traditional approaches. The same is true for infrastructure, where separation of duties helps address errors and mitigate the risk of non-compliance.
4. Optimized Review and Approval Processes
The ability to audit employees' work is crucial. Regulators need to be able to review the infrastructure used to arrive at scientific conclusions and see how that infrastructure is deployed. Infrastructure-as-code enables stakeholders and regulators to see eye-to-eye on infrastructure.
5. Faster, More Efficient Server and Application Builds
Before Cloud technology became commonplace, deploying a new server could take hours, days or even longer depending upon the organization. Now, it takes mere minutes. However, configuring new servers to reflect the state of existing assets and scaling them to meet demand manually is challenging and expensive. Infrastructure-as-code automates this process, allowing users to instantly deploy or terminate server instances.
6. Guaranteed Compliance
Since the state of your IT infrastructure is defined in code, it is easily readable and reproducible. This means that the process of establishing compliant workflows for new servers and application builds is automatic. There is no need to verify a carbon copy of a fully compliant server because it was directly built with compliant architecture.
7. Tougher Security
Shifting to infrastructure-as-code allows Life Science researchers to embed best-in-class security directly into new servers from the very beginning. There is no period where unsecured servers are available on the network waiting for cybersecurity personnel to secure them. The entire process is saved to the configuration file, making it infinitely repeatable.
Earn Buy-In for Platform DevOps From Your IT Team
Implementing infrastructure-as-code can be a difficult sell for IT team members, who may resist the concept. Finding common ground between IT professionals and researchers is key to enabling the optimal deployment of DevOps best practices for research compute environments.
Clear-cut data and a well-organized implementation plan can help you make the case successfully. Contact RCH Solutions to find out how we helped a top-ten global pharmaceutical company implement the Platform DevOps model into its research compute environment.
RCH Solutions is a global provider of computational science expertise, helping Life Sciences and Healthcare firms of all sizes clear the path to discovery for nearly 30 years. If you're interesting in learning how RCH can support your goals, get in touch with us here.