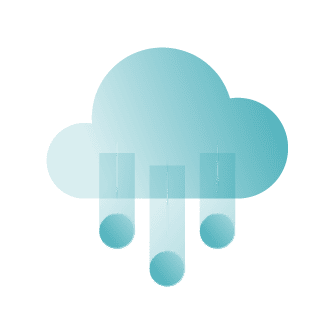 RCH Introduces Scalable Cloud Service Offering for Growing Biotechs and Pharmas
Introducing, RCH Launch Pad, bundling scalable, cost-effective Cloud computing services to meet the unique compute infrastructure challenges of start-up and growing organizations.
Modernizing the R&D Environment, Part Two: When a Multi-Cloud Strategy Makes Sense
There are good reasons to balance Cloud infrastructure between multiple vendors.
In Part One of this series, we discussed some of the applications and workflows best-suited for public Cloud deployment. But public Cloud deployments are not the only option for life science researchers and biopharmaceutical IT teams. Hybrid Cloud and multi-Cloud environments can offer the same benefits in a way that's better aligned to stakeholder interests.
What is a Multi-Cloud Strategy?
Multi-Cloud refers to an architectural approach that uses multiple Cloud computing services in parallel. Organizations that adopt a multi-Cloud strategy are able to distribute computing resources across their deployments and minimize over-reliance on a single vendor.
Multi-Cloud deployments allow Life Science researchers and Bio-IT teams to choose between multiple public Cloud vendors when distributing computing resources. Some Cloud platforms are better suited for certain tasks than others, and being able to choose between multiple competing vendors puts the organization at an overall advantage.
Why Bio-IT Teams Might Want to Adopt a Multi-Cloud Strategy
Working with a single Cloud computing provider for too long can make it difficult to move workloads and datasets from one provider to another. Especially as needs and requirements change which, as we know, is quite often within Life Sciences organizations.  Highly centralized IT infrastructure tends to accumulate data gravity – the tendency for data analytics and other applications to converge on large data repositories, making it difficult to scale data capabilities outwards.
This may go unnoticed until business or research goals demand migrating data from one platform to another. At that point, the combination of data gravity and vendor lock-in can suddenly impose unexpected technical, financial, and legal costs.
Cloud vendors do not explicitly prevent users from migrating data and workflow applications. However, they have a powerful economic incentive to make the act of migration as difficult as possible. Letting users flock to their competitors is not strictly in their interest.
Not all Cloud vendors do this, but any Cloud vendor can decide to. Since Cloud computing agreements can change over time, users who deploy public Cloud technology with a clear strategy for avoiding complex interdependencies will generally fare better than users who simply go "all in" with a single vendor.
Multi-Cloud deployments offer Life Science research organizations a structural way to eliminate over-reliance on a single Cloud vendor. Working with multiple vendors from the start demands researchers and IT teams plan for data and application portability from the beginning.
Multi-Cloud deployments also allow IT teams to better optimize diverse workflows with scalable computing resources. When researchers demand new workloads, their IT partners can choose an optimal platform for each one of them on a case-by-case basis.
This allows researchers and IT teams to coordinate resources more efficiently. One research application's use of sensitive data may make it better suited for a particular Cloud provider, while another workflow demands high-performance computing resources only available from a different provider. Integrating multiple Cloud providers under a single framework can enable considerable efficiencies through each stage of the research process.
What About Hybrid Cloud?
Hybrid Clouds are IT architectures that rely on a combination of private Cloud resources alongside public Cloud systems. Private Cloud resources are simply Cloud-based architectures used exclusively by one organization.
For example, imagine your life science firm hosts some research applications on its own internal network but also uses Microsoft Azure and Amazon AWS. This is a textbook example of a multi-Cloud architecture that is also hybrid.
Hybrid Cloud environments may offer benefits to Life Science researchers that need security and compliance protection beyond what public Cloud vendors can easily offer. Private Cloud frameworks are ideal for processing and storing sensitive data.
Hybrid Cloud deployments may also present opportunities to reduce overall operating expenses over time. If researchers are sure they will consistently use certain Cloud computing resources frequently for years, hosting those applications on a private Cloud deployment may end up being more cost-efficient over that period. 
It's common for Bio-IT teams to build private on-premises Cloud systems for small, frequently used applications and then use easily scalable public Cloud resources to handle less frequent high-performance computing jobs. This hybrid approach allows life science research organizations to get the best of both worlds.
Optimize your Cloud Strategy for Achieving Research Goals 
Life Science research organizations generate value by driving innovation in a dynamic and demanding field. Researchers who can perform computing tasks on the right platform and infrastructure for their needs are ideally equipped to make valuable discoveries. Public Cloud, multi-Cloud, and hybrid Cloud deployments are all viable options for optimizing Life Science research with proven technology.
RCH Solutions is a global provider of computational science expertise, helping Life Sciences and Healthcare firms of all sizes clear the path to discovery for nearly 30 years. If you're interesting in learning how RCH can support your goals, get in touch with us here. 
Get on Board with Emerging Biopharma Technology
Explore the cutting-edge tools revolutionizing the industry. 
Computer-aided design (CAD) is already an essential tool for most biopharmaceutical research teams. But as CAD tools such as deep learning (DL), machine learning (ML), and artificial intelligence (AI) evolve faster than we can imagine, even the most tech-savvy teams risk missing out on the transformational benefits of these state-of-the-art tools. Explore the nearly unimaginable advantages of the latest CAD advancements and learn how to break down barriers to unlocking the full potential of these innovations, even if your organization has yet to reach for the key.
The Capabilities of Cutting-Edge CAD
Experts in AI, ML, and DL have documented a few primary areas of digital transformation within the biopharmaceutical realm.
Drug discovery

ML gives labs the ability to quickly process nearly infinite drug datasets to find matches that could fuel the discovery of new pharmaceutical treatments. 
As reported by Genetic Engineering & Biotechnology News, the firm Atomwise pioneered the use of convolutional neural networking—a form of ML used in common consumer tech like social media photo tagging—for more than 550 initiatives, including drug discovery, dose optimization, and toxicity screening.
Personalized medicine
This term describes the use of a type of ML called predictive analytics, in which a patient's individual health data provides the physician with detailed information about their genetics, risks, and possible diagnoses. The partnership between IBM Watson Oncology and Memorial Sloan Kettering exemplifies the area of personalized medicine as they drive research into the use of this modality to optimize patient treatments and outcomes. The availability of mobile apps, devices, and biosensors for remote health analysis will dramatically expand this area in the coming years.
Patient and site selection for clinical trials

Biopharma companies can significantly reduce the cost and time investment of clinical trials with the application of ML algorithms. In a 2018 article, research firm Evidera cited an analysis of 151 international clinical trials at nearly 16,000 sites. The study, which appeared in the journal Therapeutic Innovation and Regulatory Science, uncovered the difficulty of finding appropriate patients for clinical trials, especially for central nervous system conditions. The use of AI models can potentially use data mining to find subjects that have not yet been diagnosed with the disease in question.
Overcoming barriers to focus on the future

Research institutions of all sizes struggle to adopt emerging tech. The most common blockades to biopharma progress in this area include:
Internal culture that resists innovation

Limited infrastructure and resources to invest in technology

Misplaced commitment to legacy tools and practices that prevent experimentation

Lack of digital leadership from C-level executives

Limited access to clean, reliable datasets

Barriers to interoperability among collaborators, often even within the same organization

Concerns about data privacy and security, as well as other regulatory issues
The ethical implications of artificial intelligence and machine learning also pose issues, as technology evolves faster than we can answer questions about bias, transparency, and related concerns.
Today's emerging biopharma tech will rapidly evolve and replace itself with tomorrow's innovations. Within just a few years, modern labs that realize the possibilities of AI, DL, and ML will leave traditional biopharma firms in their dust with little hope of recovery. For example, companies that do not adopt advanced AI methods to recruit participants for clinical trials will struggle to complete the necessary research to produce new products. Deloitte estimates that fewer than 17 percent of the 30,000 trials registered on ClinicalTrials.gov in 2018 ever published results. 
In a 2019 study by Deloitte Insights, 79 percent of biotech respondents said their companies planned to implement new CAD advancement within the next five years, with 58 percent citing digital transformation as a top leadership priority. The prior year, a benchmarking study by the research firm found that 60 percent of biotech firms used machine learning, and 96 percent anticipated using it in coming years.
RCH Solutions is a global provider of computational science expertise, helping Life Sciences and Healthcare firms of all sizes clear the path to discovery for nearly 30 years. If you're interesting in learning how RCH can support your goals, get in touch with us here.