Insights to Power Your Platform & Performance
Browse our library of resources to learn more about trends and solutions driving research innovation at companies like yours.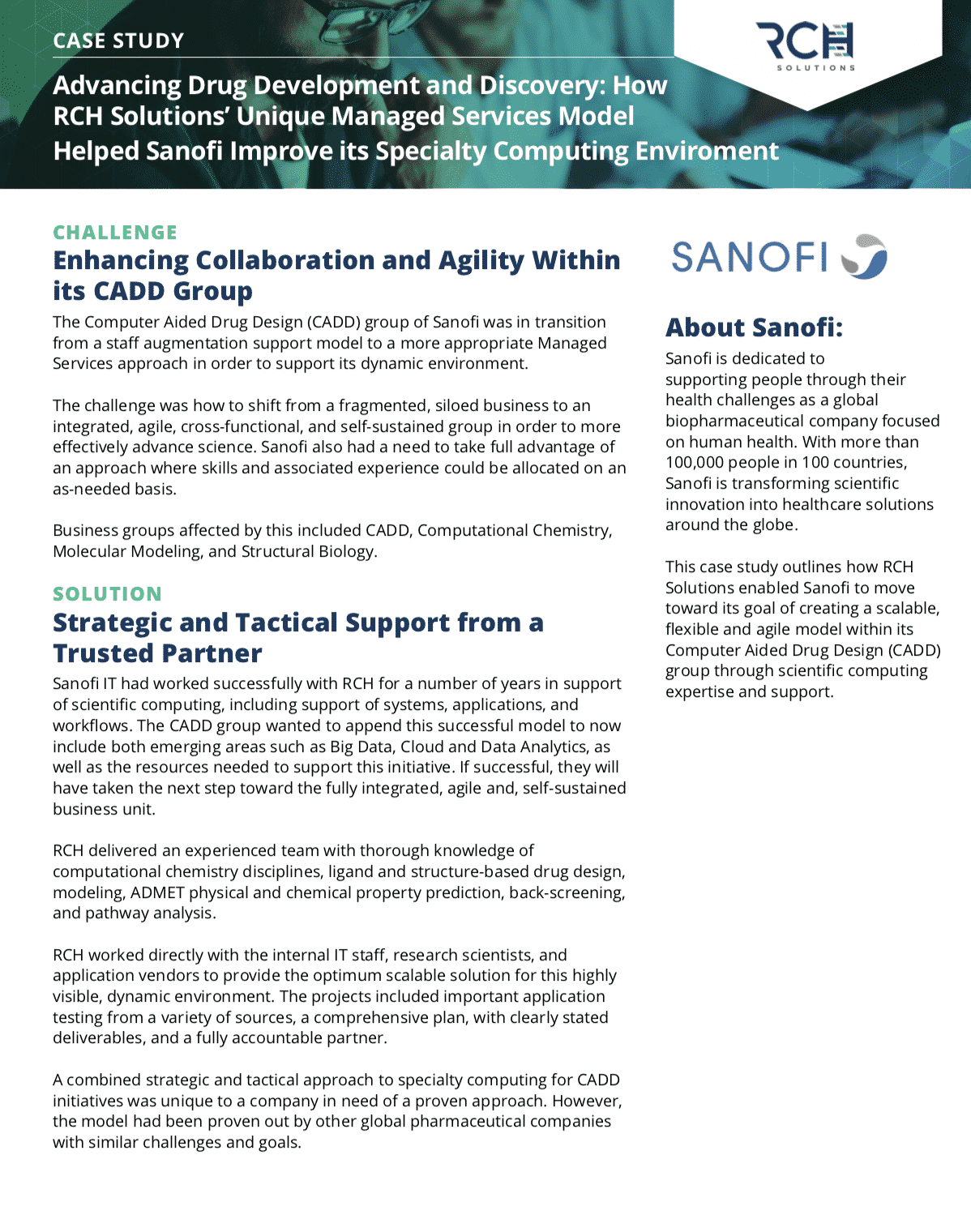 CASE STUDY
Advancing Drug Discovery: How RCH's Unique Model Helped Sanofi Improve its Computing Environment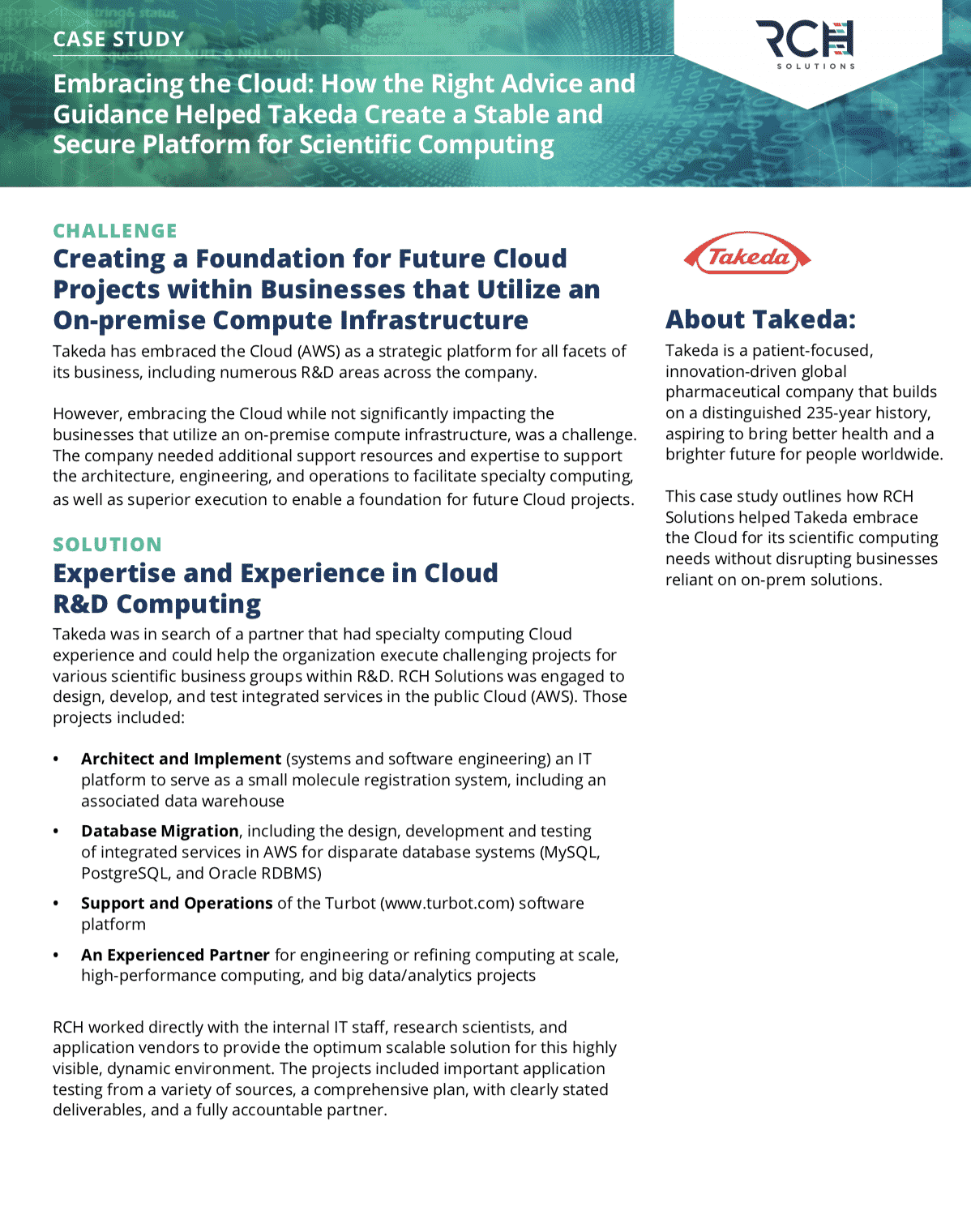 CASE STUDY
Embracing the Cloud: How the Right Advice and Guidance Helped Takeda Create a Stable and Secure Platform for Scientific Computing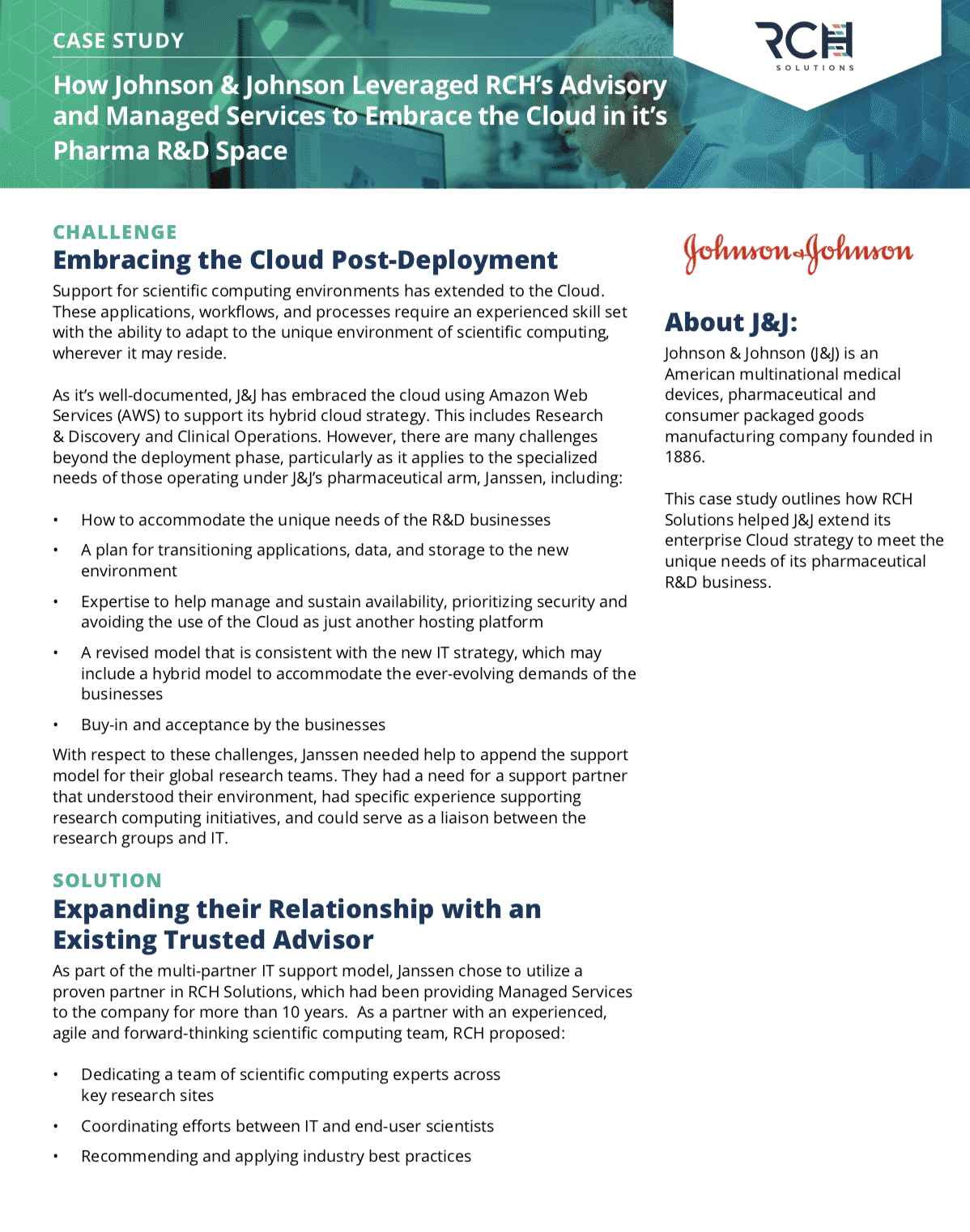 CASE STUDY
How Johnson & Johnson Leveraged RCH's Proven Managed Services Model to Embrace the Cloud Across its Pharma R&D Space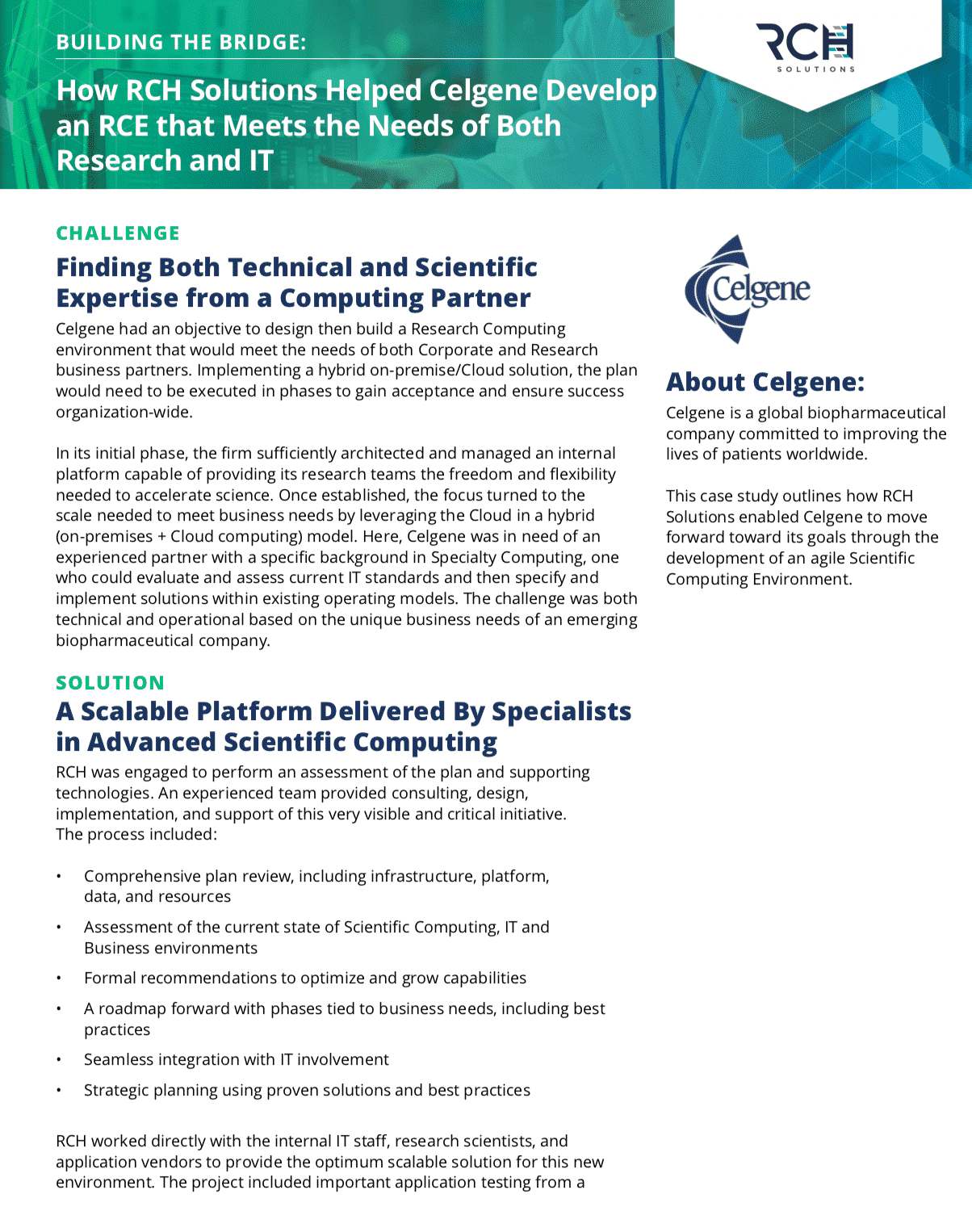 CASE STUDY
Building The Bridge: How RCH Helped Celgene Develop a Research Computing Environment that Meets the Needs of Both Research and IT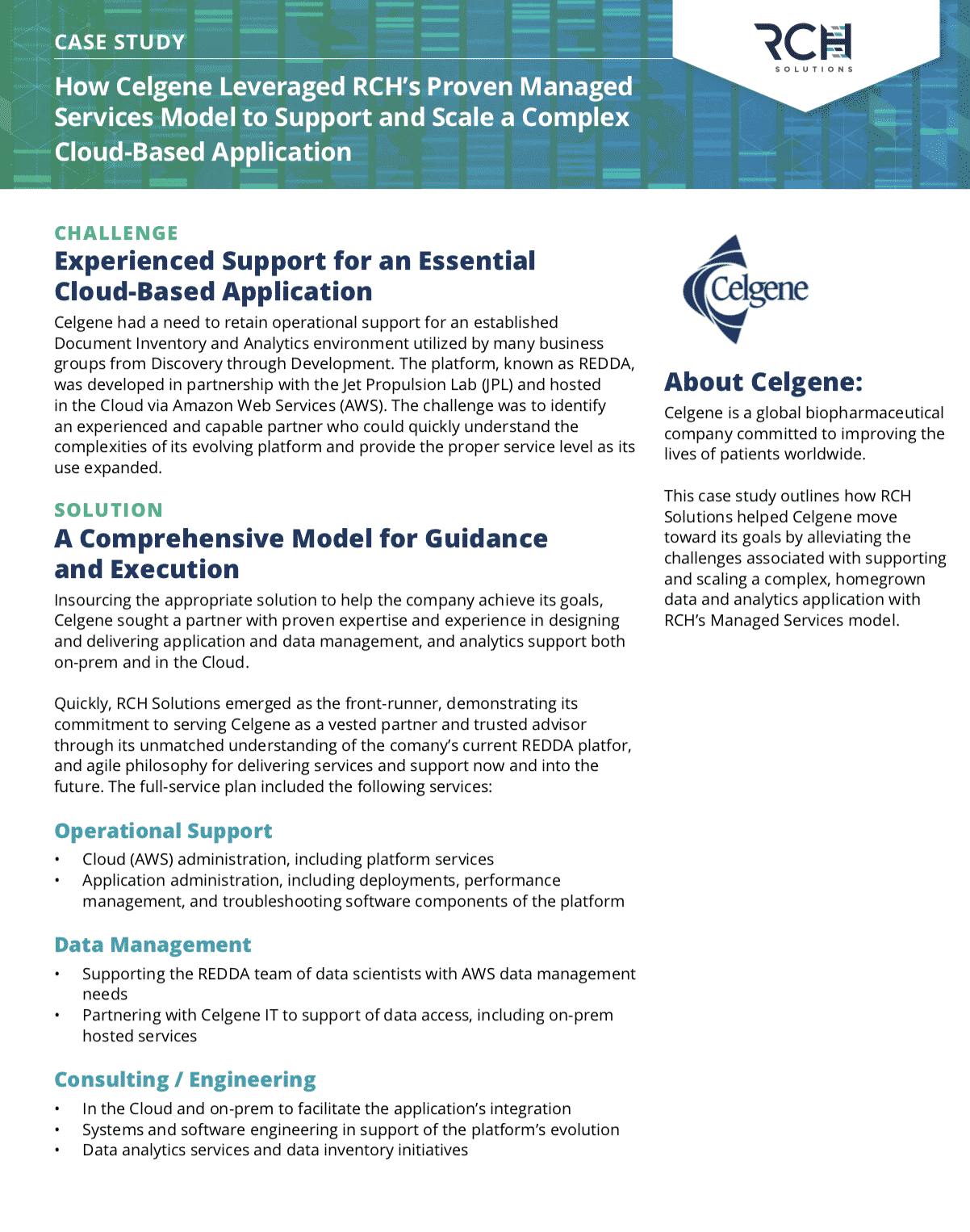 CASE STUDY
How RCH's Managed Services Model Helped Celgene Support & Scale a Complex Cloud-Based Application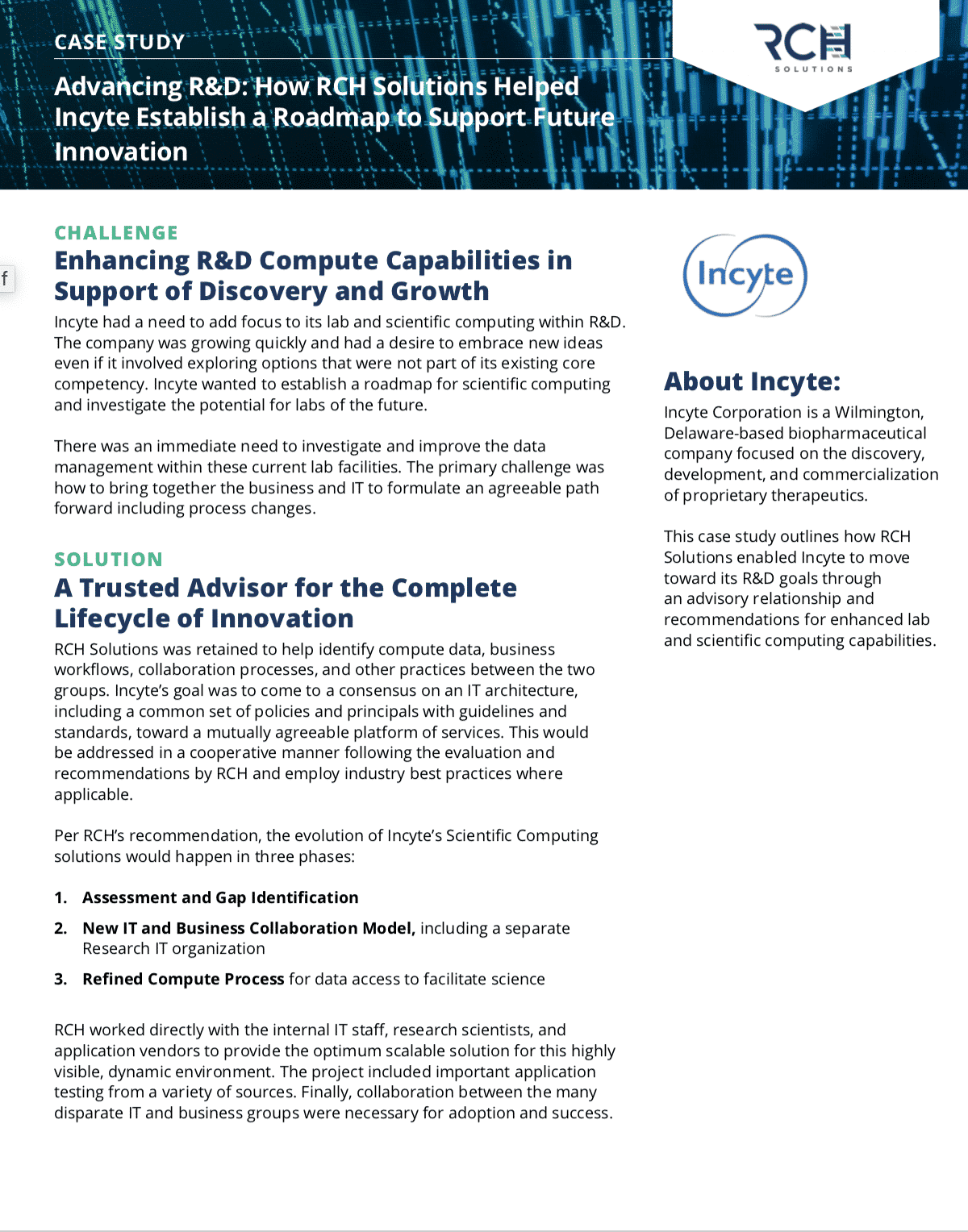 CASE STUDY
Advancing R&D: How RCH Solutions Helped Incyte Establish a Roadmap to Support Future Innovation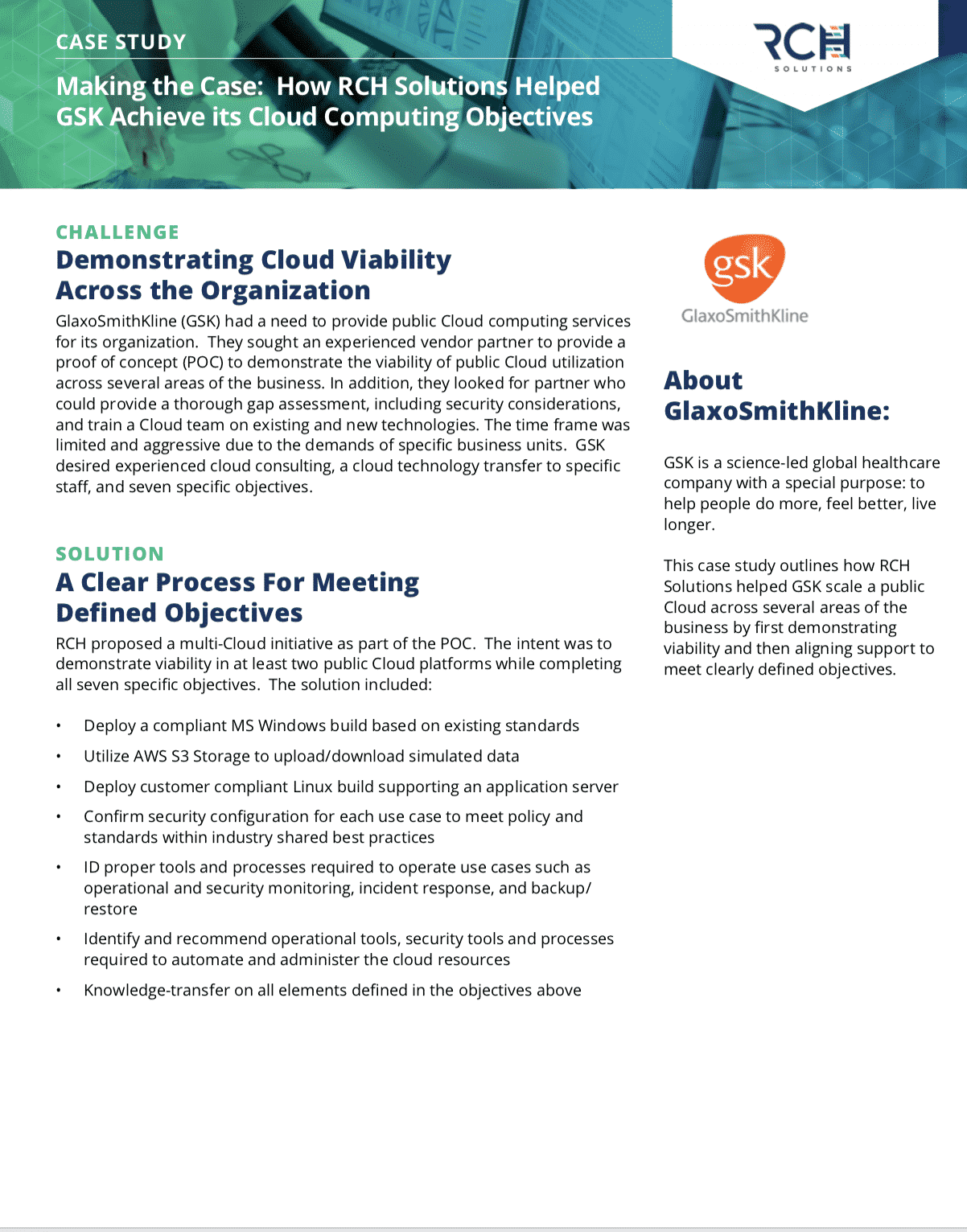 CASE STUDY
Making the Case: How RCH Solutions Helped GlaxoSmithKline Achieve its Cloud Computing Objectives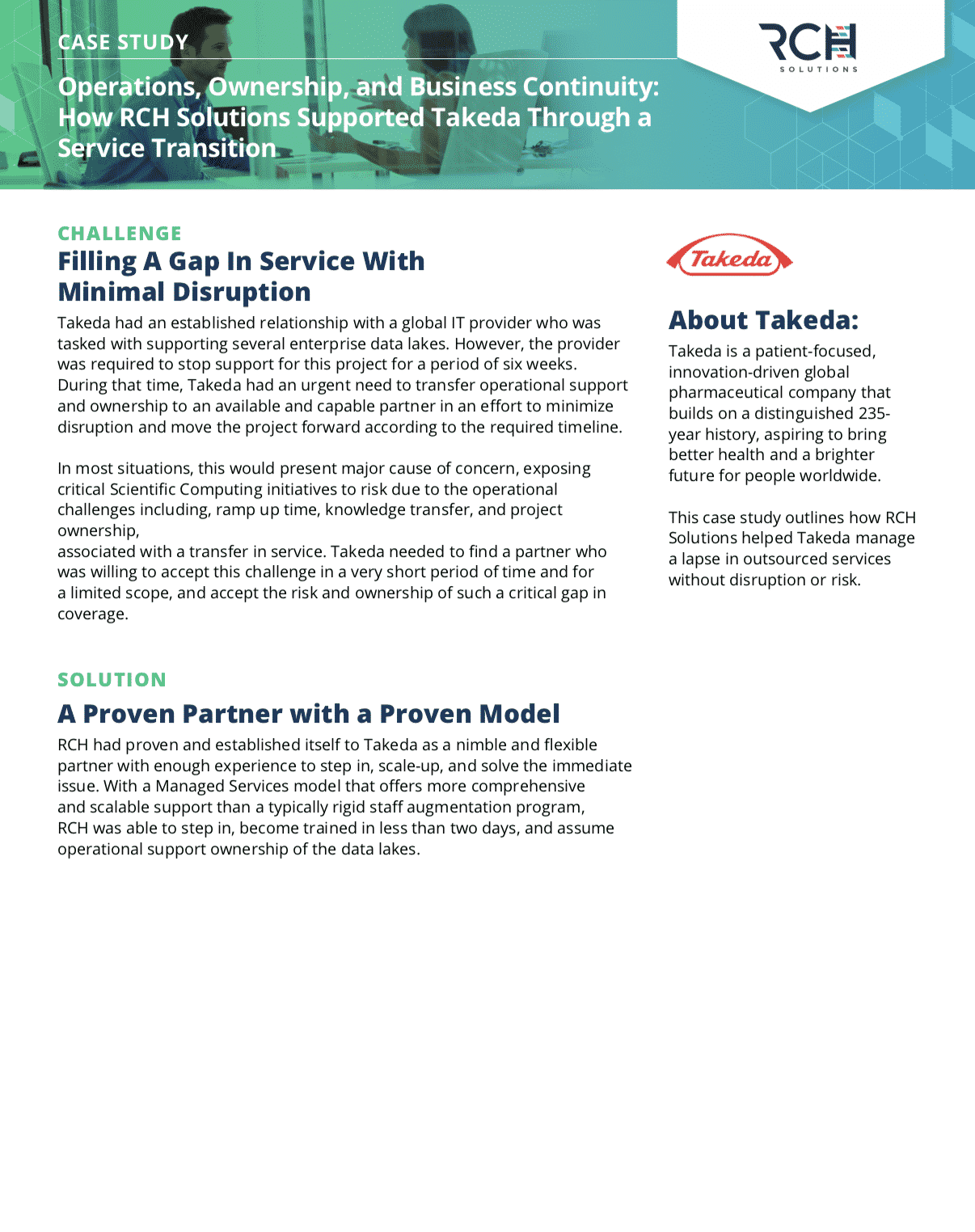 CASE STUDY
Operations, Ownership, and Continuity: How RCH Supported Takeda Through a Service Transition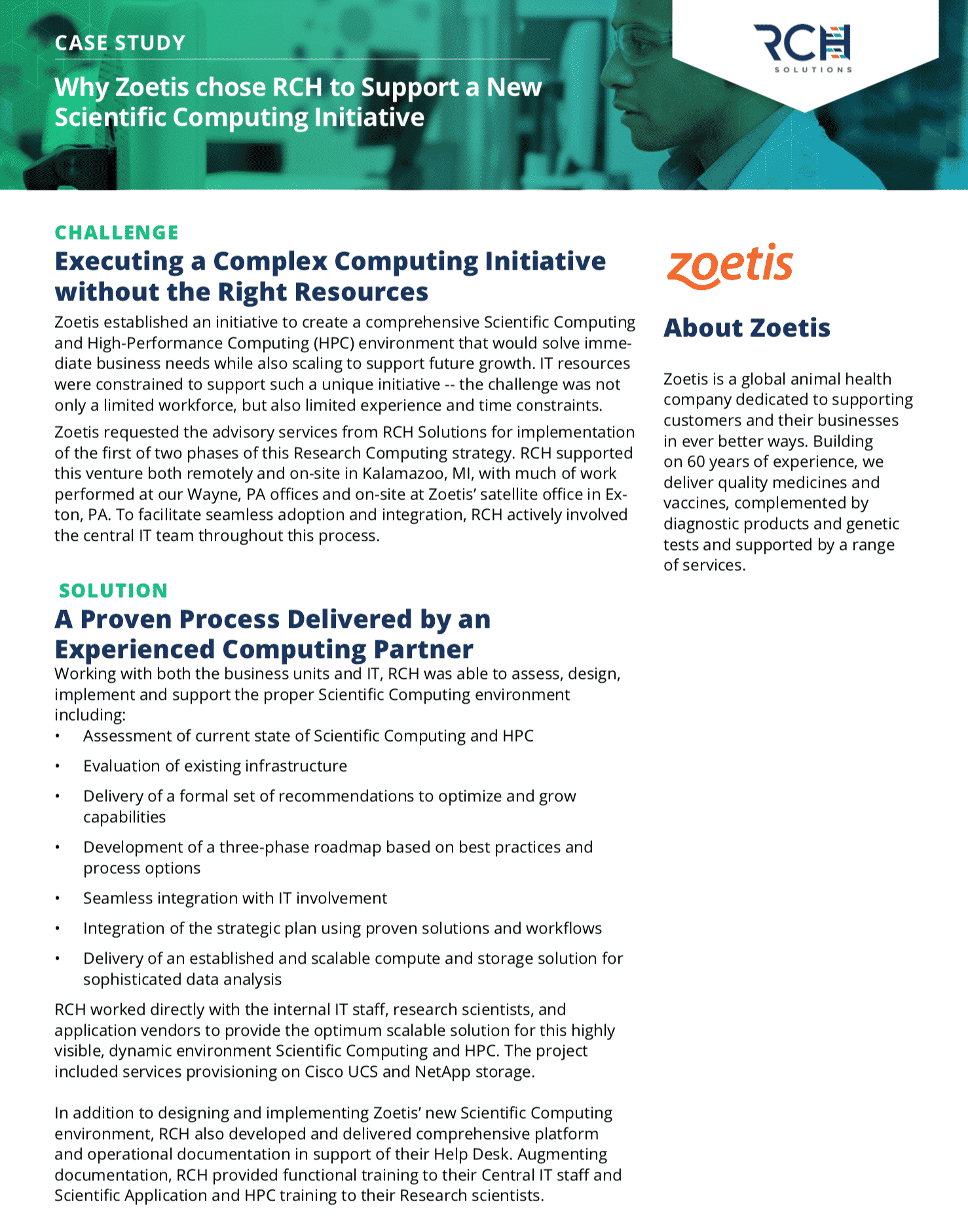 Case Study
Why Zoetis chose RCH to Support a New Scientific Computing
Initiative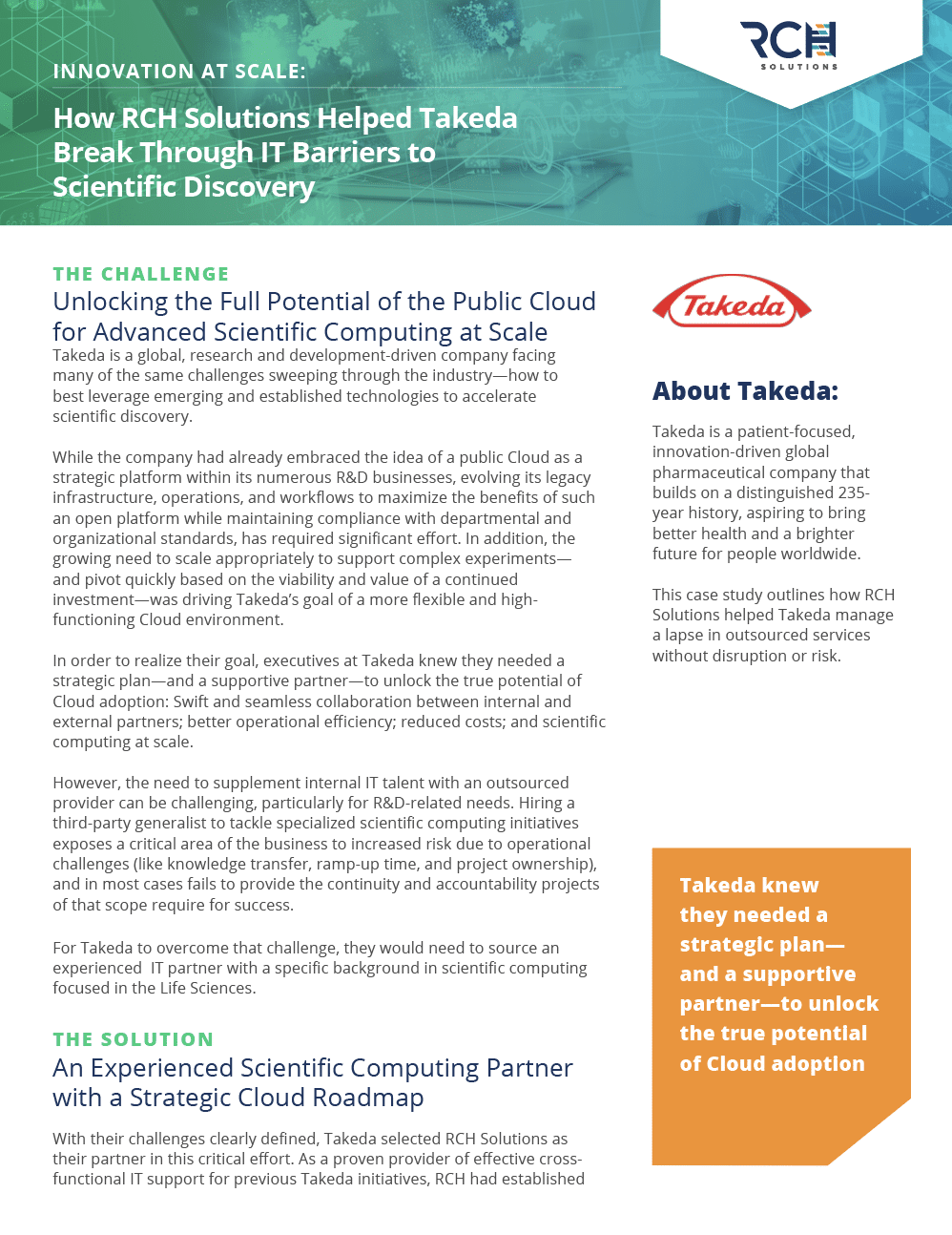 Case Study
Innovation at Scale– How RCH Solutions helped Takeda Break Through IT Barriers to Scientific Discovery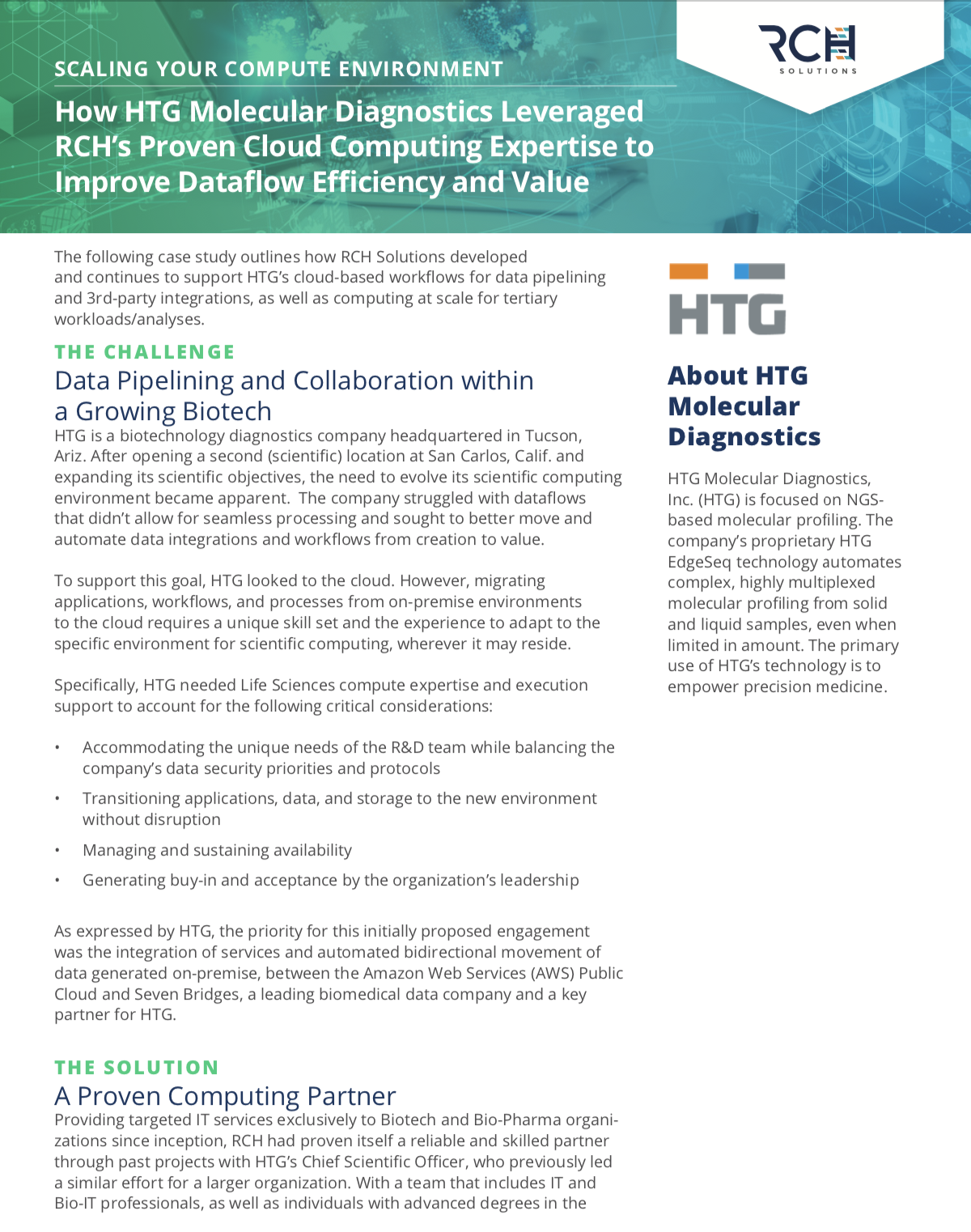 Case Study
Scaling Your Compute Environment: How HTG Molecular Diagnostics Leveraged RCH's Proven Cloud Computing Expertise to Improve Dataflow Efficiency and Value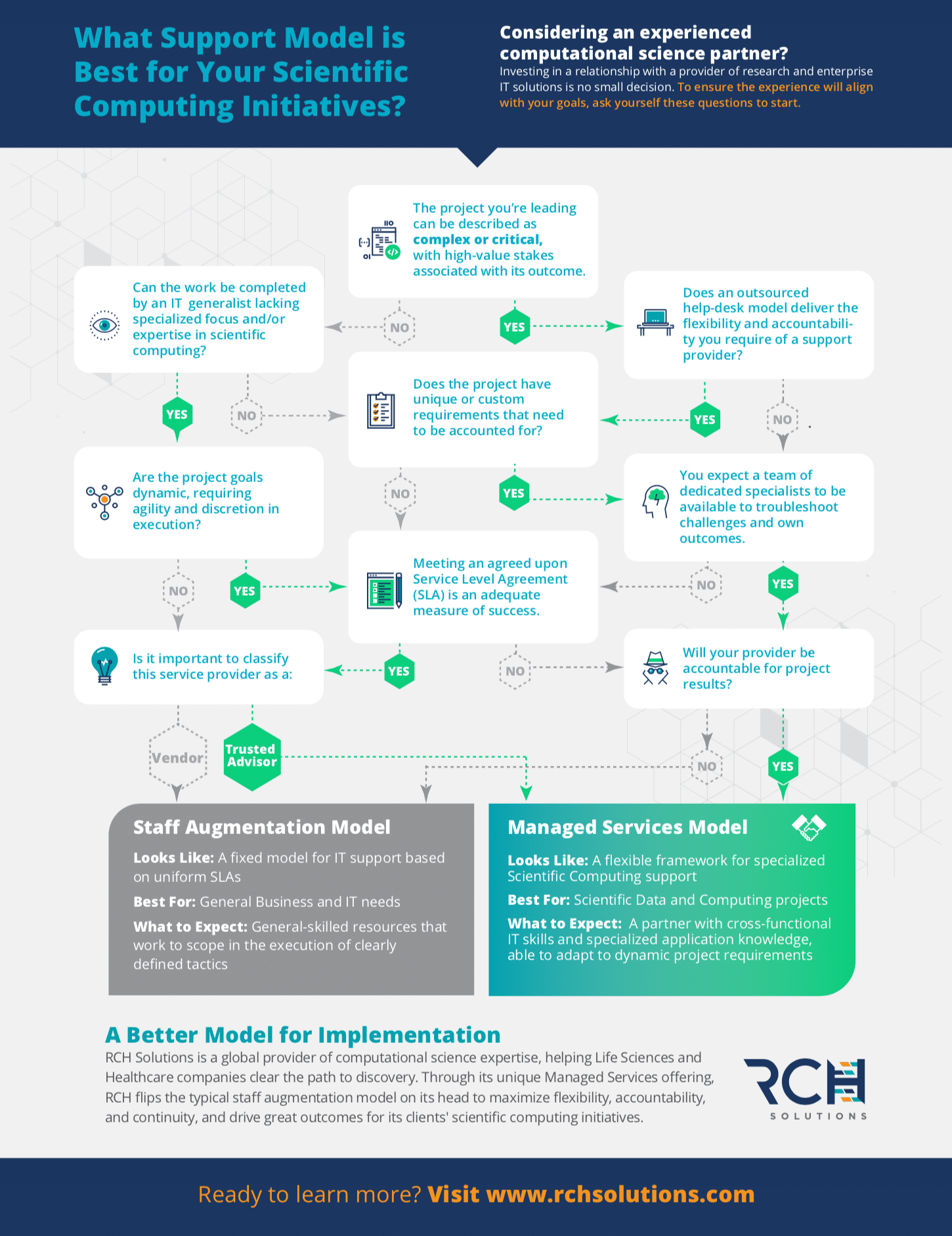 INFO SHEET
What support model is best for your scientific computing initiatives?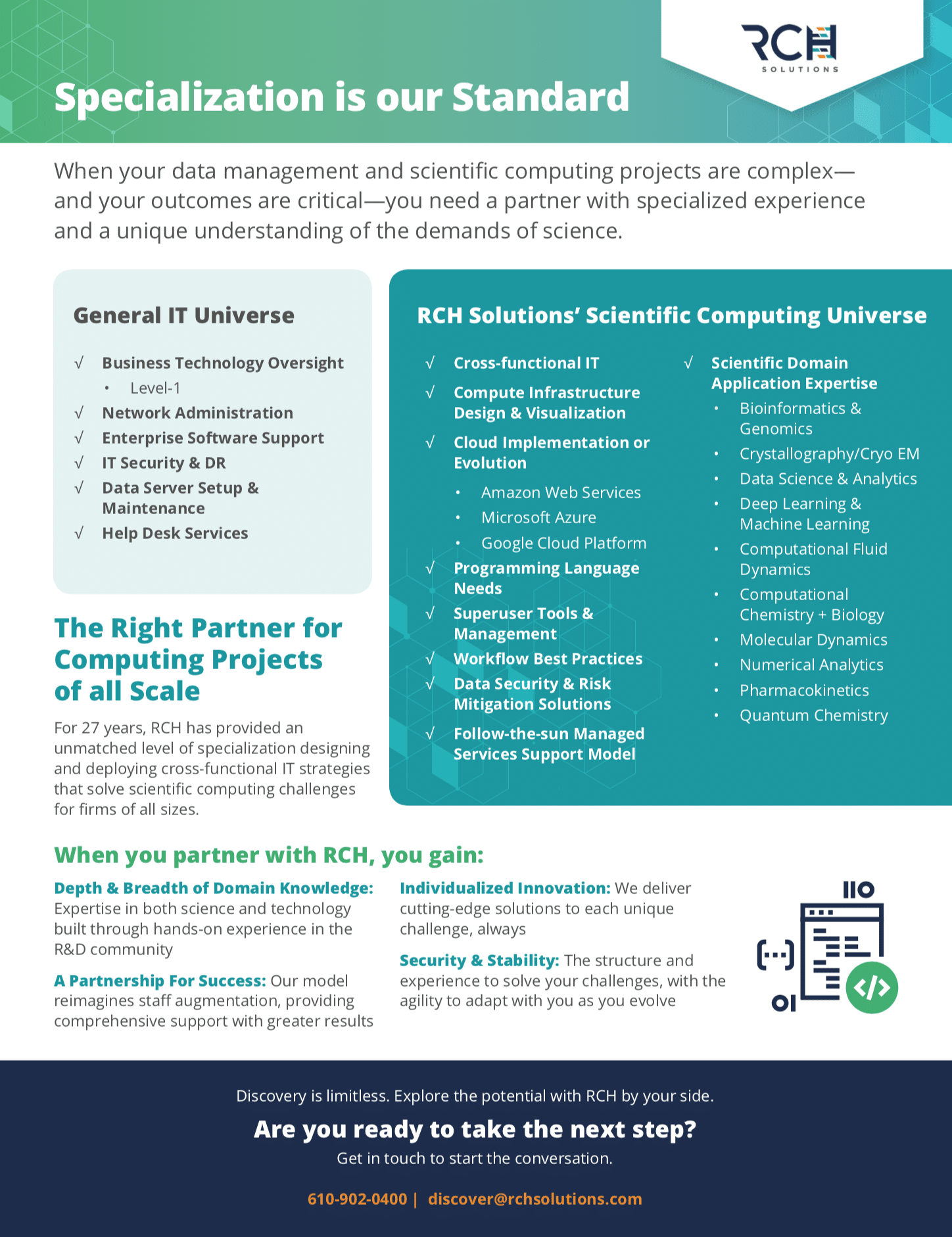 INFO SHEET
The Value of a Scientific Computing Specialist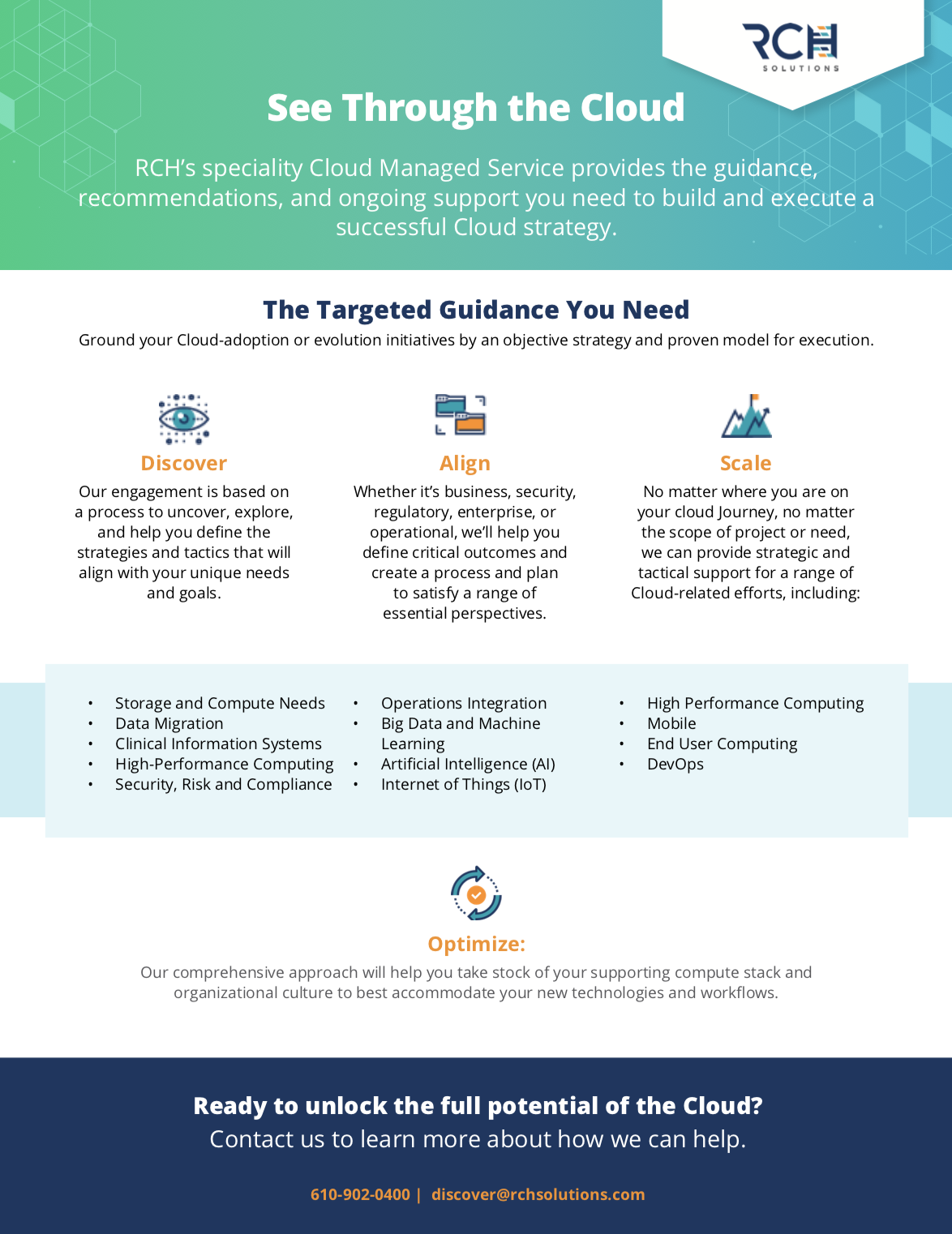 Guides, eBooks & White Papers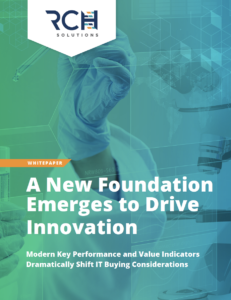 White Paper
How Modern Key Performance Indicators Dramatically Shift IT Buying Considerations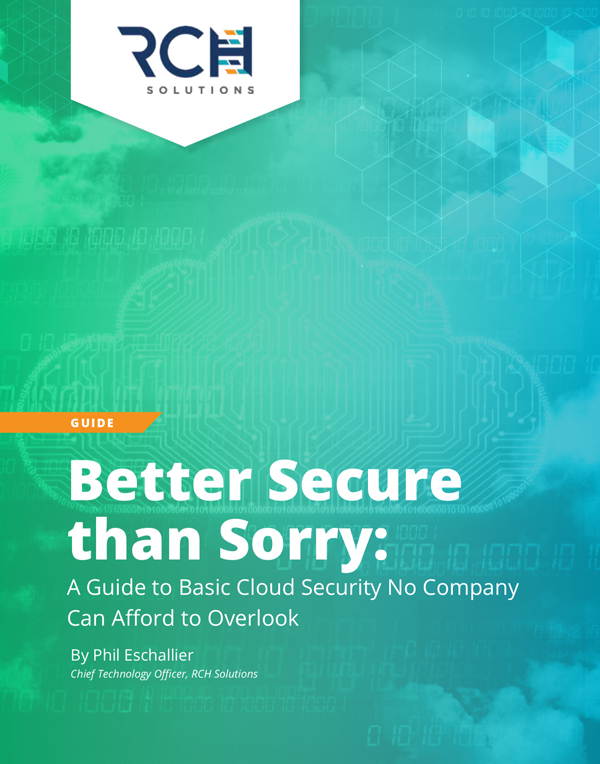 GUIDE
Better Secure than Sorry: A Guide to Basic Cloud Security No Company Can Afford to Overlook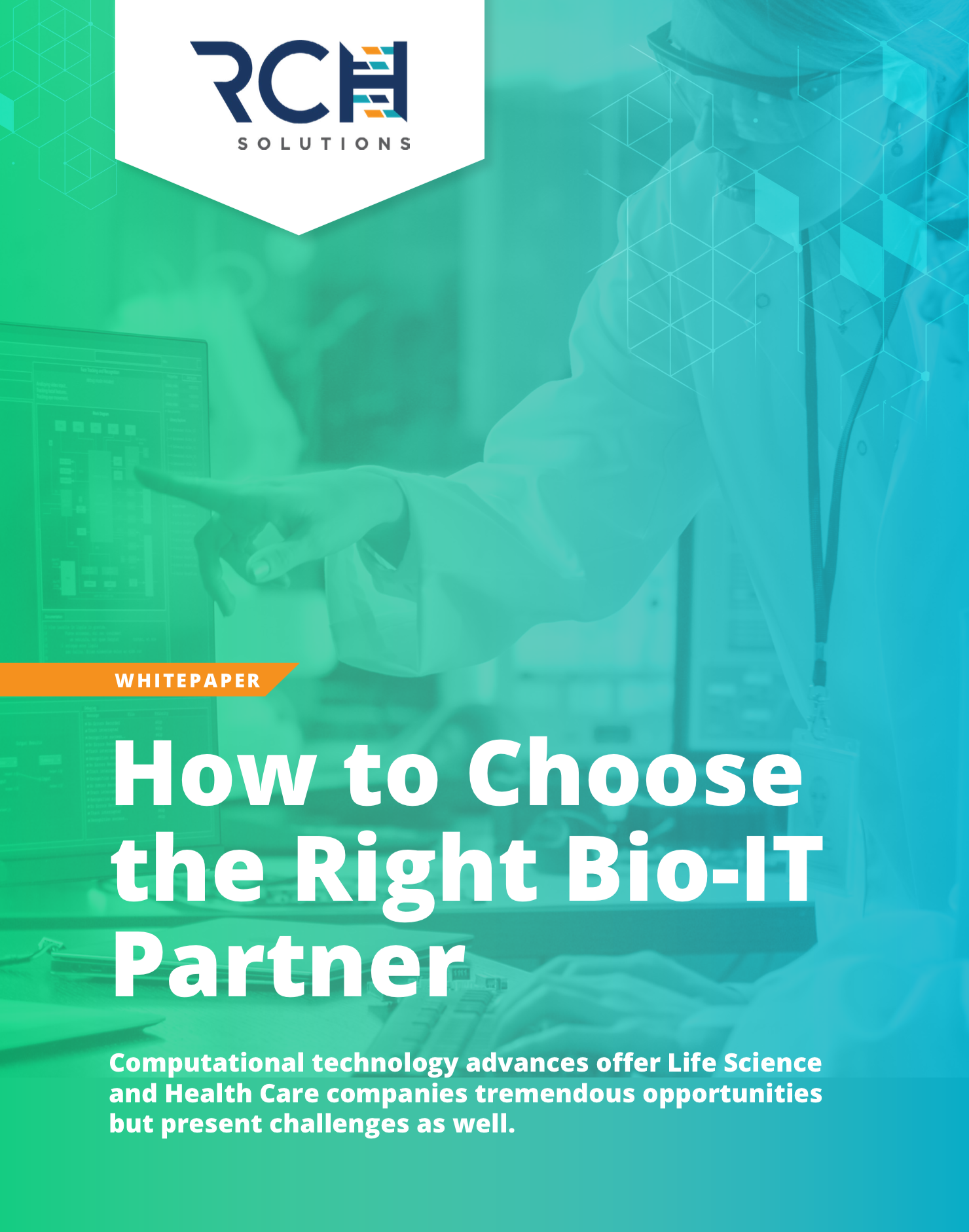 GUIDE
How to Choose the RIght Bio-IT Partner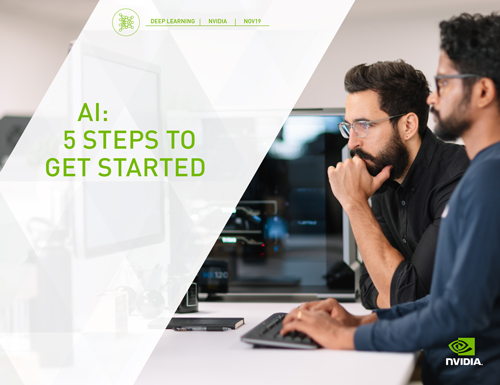 EBOOK
Getting Started with AI Software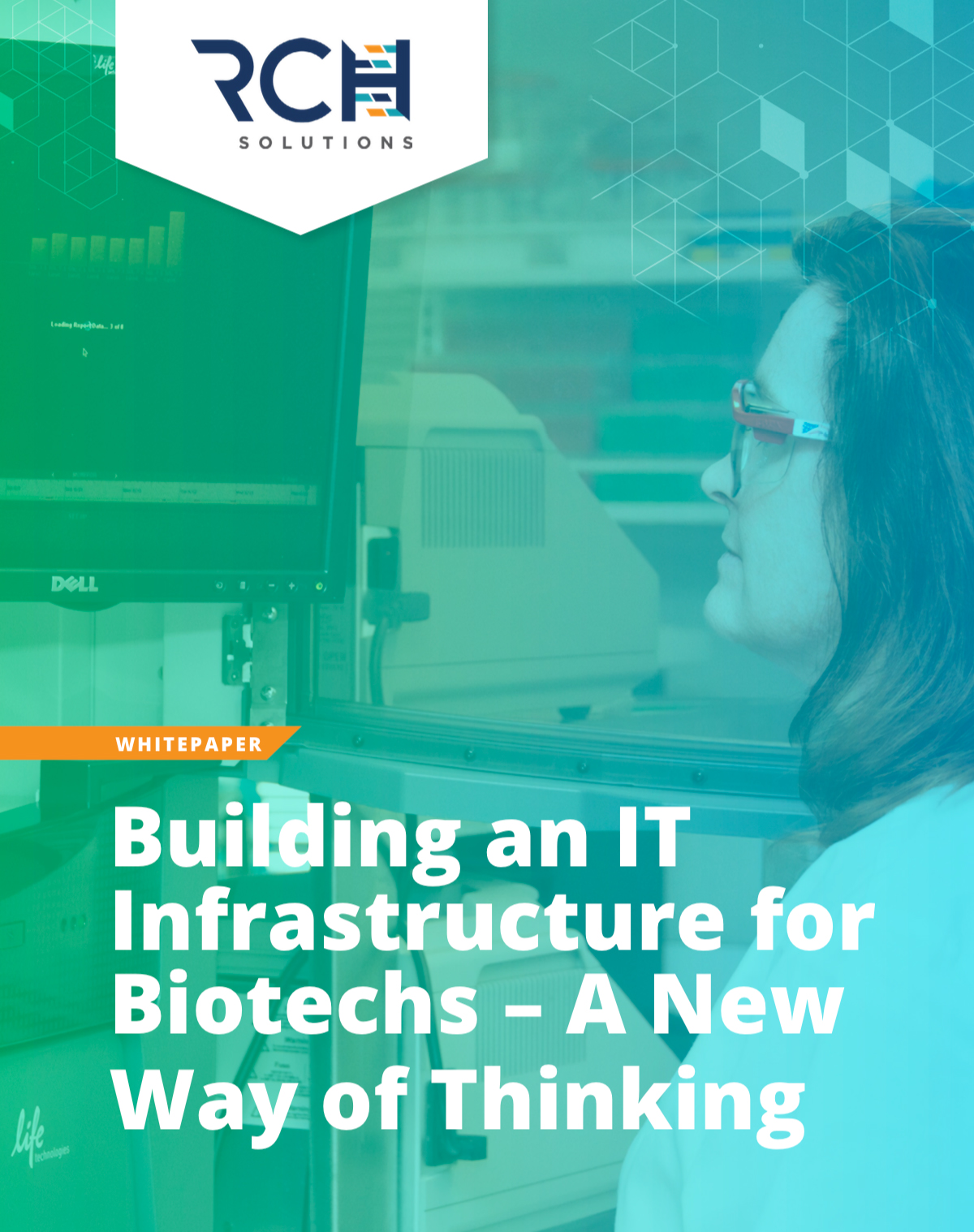 White Paper
Building an IT Infrastructure for Biotechs – A New Way of Thinking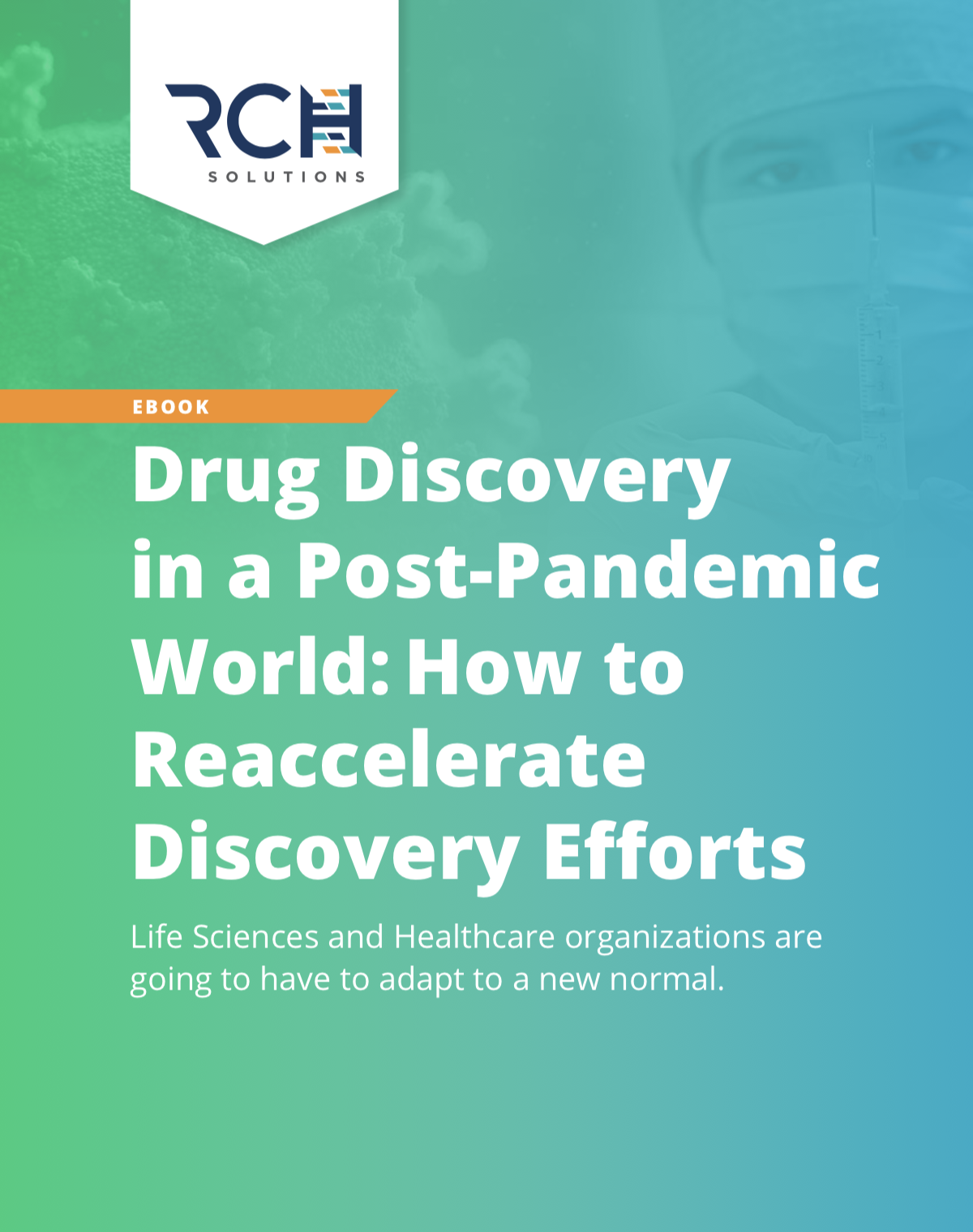 eBook
Drug Discovery in a Post-Pandemic World: How to Reaccelerate Discovery Efforts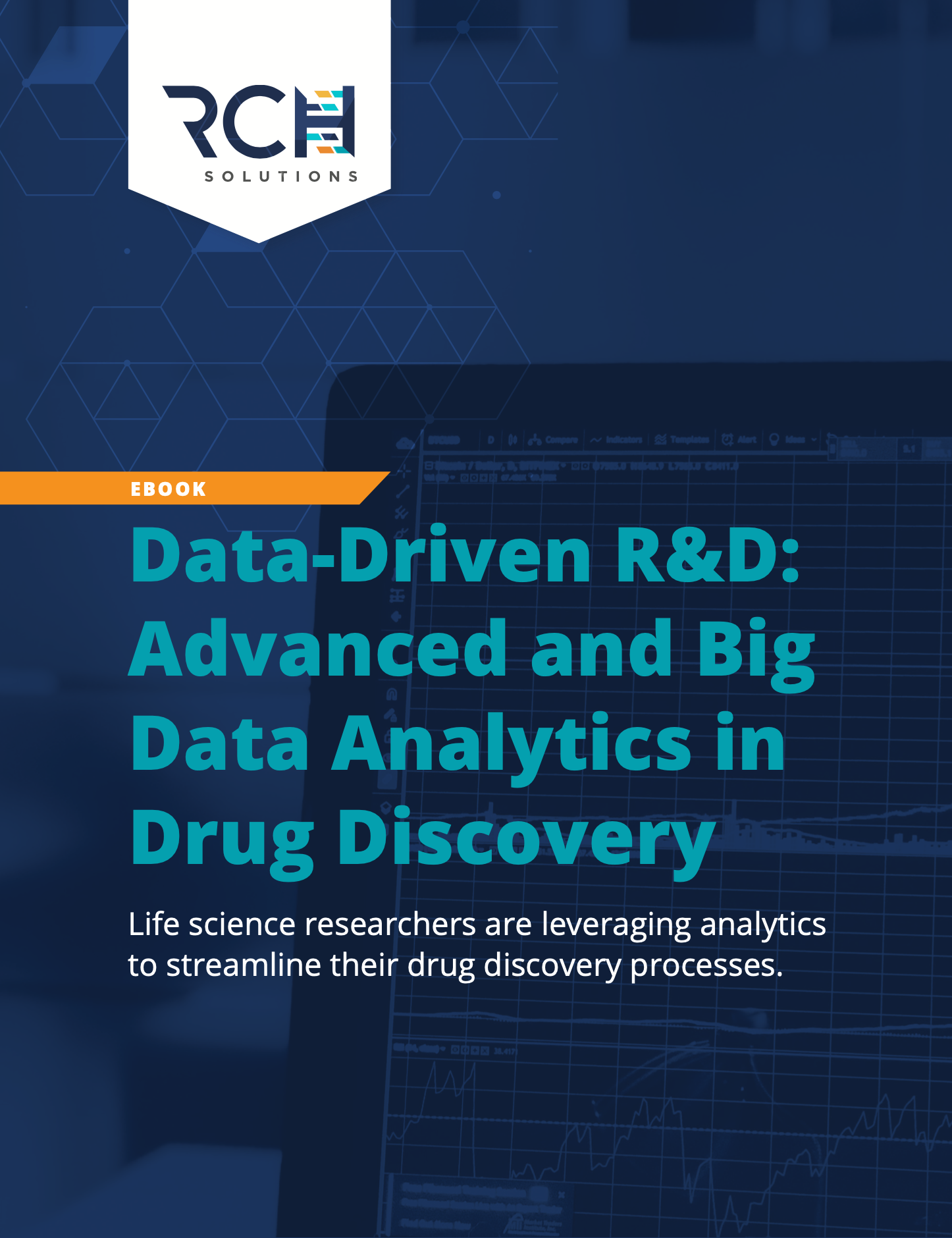 eBook
Data-Driven R&D: Advanced and Big Data Analytics in Drug Discovery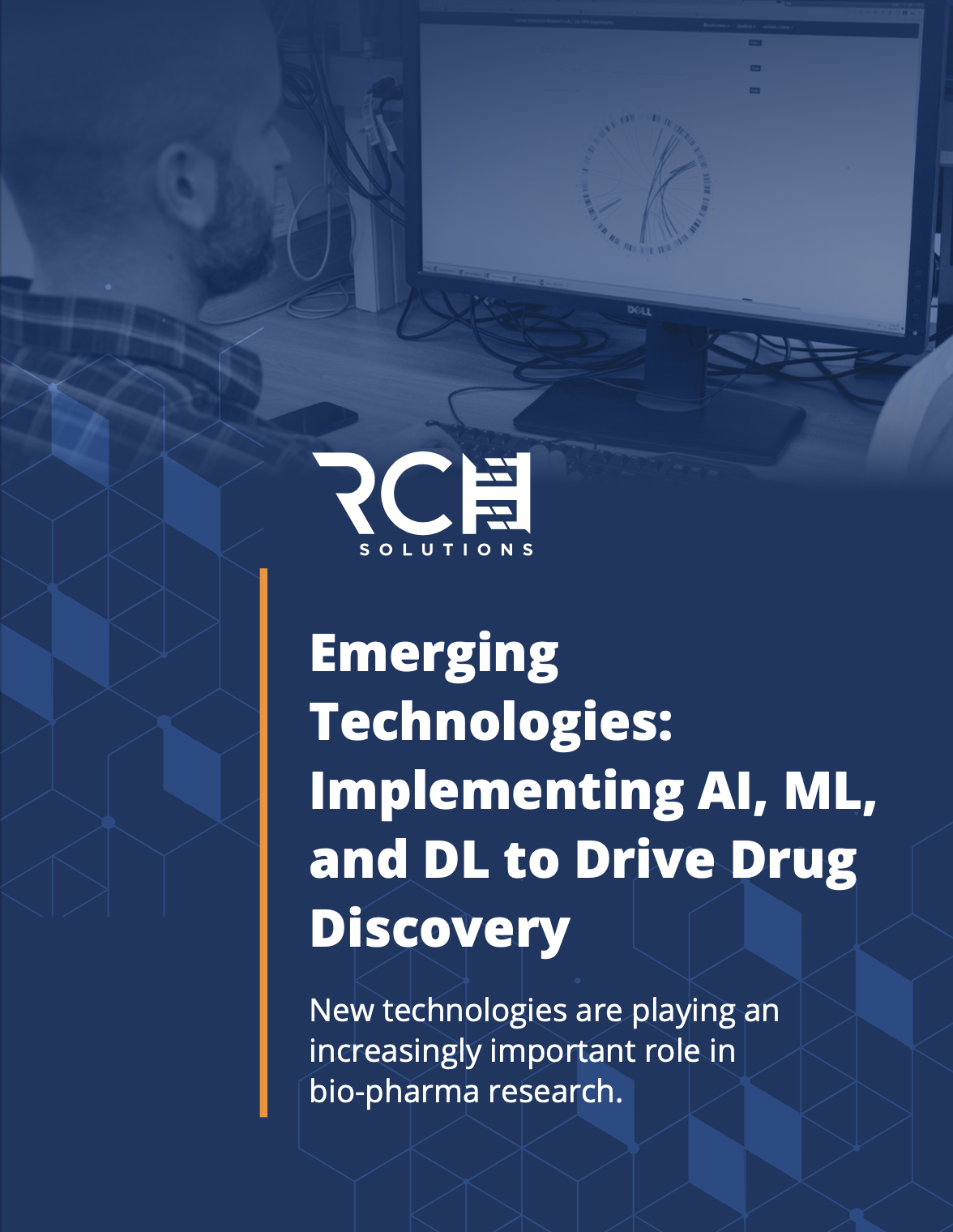 eBook
Emerging Technologies: Implementing AI, ML, and DL to Drive Drug Discovery 
Webinars and Presentations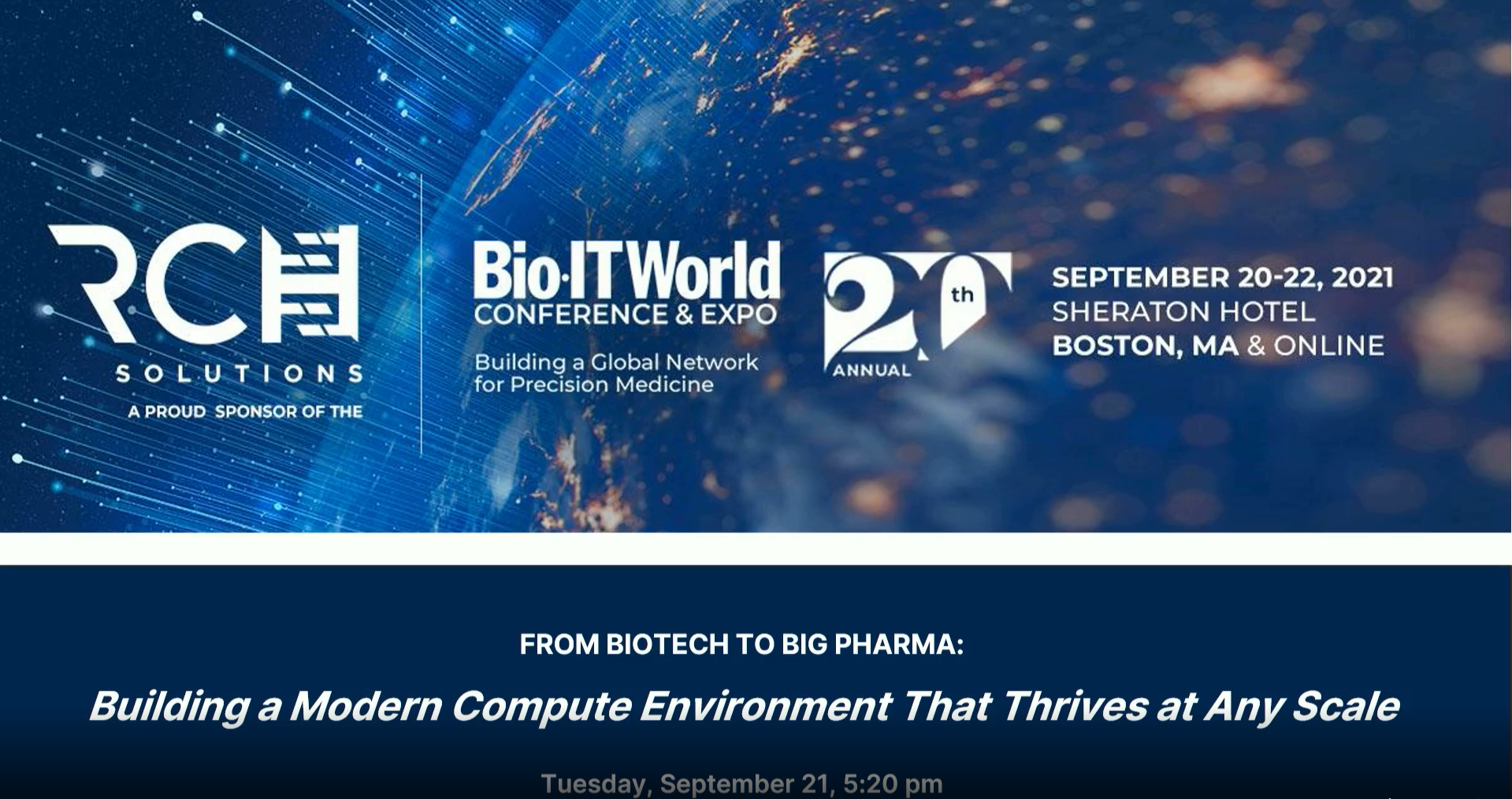 From Biotech to Big Pharma: Building a Compute Environment that Thrives at any Scale
About RCH Managed Services

Advice
Learn more about our comprehensive Advisory Services.

Implementation
See how our model for execution adds more value, more often.

Technology
Explore established and emerging solutions and support.
Philadelphia Headquarters
992 Old Eagle School Road
Wayne, PA 19087
610-902-0400
Boston
90 Canal Street, 4th Floor
Boston, MA 02114
617-674-2029
San Diego
4660 LaJolla Village Drive
Suite 500
San Diego, CA 92122
858-877-9488
Belgium
Avenue Louise 149/24
B1050 Brussel, Belgium